Providing healthcare professionals with direct access to 3D technologies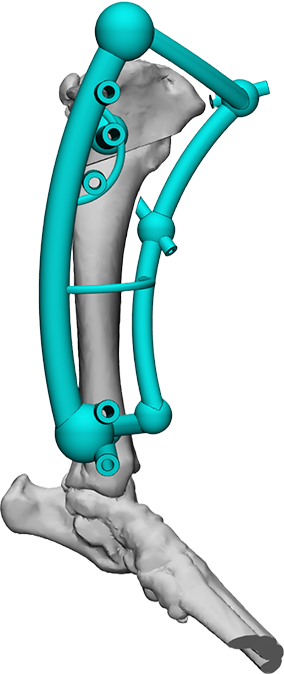 In addition to our commitment to research, Cartesian Medical provides virtual surgical consultation and custom 3D printing services for the medical and veterinary medical fields. We are founded on surgeon expertise and commitment to quality, allowing us to deliver teaching, research, and clinical applications.
3D models of a patient's bone can be printed for rehearsal surgery and implant selection. This facilitates more efficient and accurate procedures. All models may be sterilized for reference during surgery.

Our staff surgeons will perform a virtual surgery on segmented bones and discuss individual steps via video conference. Access to a 3D pdf file allows the clinician to manipulate anatomic parts as part of a virtual surgical rehearsal.
Custom 3D printed guides allow for accurate osteotomies and reduction of deformity cases, placement of vertebral drill holes, and execution of complex arthroplasty.

In silico research can only be performed efficiently through the use of advanced software systems. Cartesian Medical uses the industry-leader Mimics and 3-Matic suites from Materialise to maximize our efficacy and optimize our ability to complete advanced research projects.
This product line can help you learn, but also teach owners, students, interns, or residents. Teaching models can also enhance a surgeon's ability to comprehend complex anatomy that can be directly referenced during surgical procedures.
Cartesian Medical was founded by surgeons who demand the same level of quality as our clients. The Materialise software suite is the industry standard. Our use of this software enables accurate computer assisted design and virtual surgery with accuracy and attention to detail. Cartesian Medical 3D printing services utilizes fused-deposition modeling (FDM), stereolithography (SLA), biocompatible materials that allow us to meet
your clinical and research needs.

We aim to provide health care professionals with direct access to 3D technologies for custom surgical procedures, educational activities, and research projects. Our team is there to support any project involving the use of 3D technology. We provide comprehensive and a la carte services from image processing to digital manufacturing and involve customers in all key procedural steps to optimize the creation of models that accurately fit your needs.
Cartesian Medical is based in the United States and we are able to ship products on demand worldwide.
The three major fields of activities of Cartesian Medical are::
1/ Segmentation and 3D rendering of cross-sectional imaging studies
2/ Computer-assisted design of custom surgical solutions including instrumentation and implants
3/ Additive manufacturing production of 3D models, instruments, and implants.